got the 6:30am flight to dublin from east midlands. what kind of airport has the duty free open so early u can buy a bottle of vodka but not a sandwich? I was starving!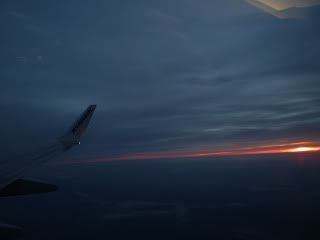 Dublin is weird because it feels like home but also like a holiday. knew I had arrived in ireland as it was pissing it down.
jumped off the bus at the gresham hotel because it was marked on my map and off i set. got a little bit lost as i thought point A on the map was point B but after that all was good. until i started REALLY pissing it down and i had to hot foot it to somewhere that sells umbrellas. ah ha! pharmacy. they sell umbrellas. sorted.
I hate o2's data roaming. had no twitter all day. free McDonalds and hotel wifi woot!
queued from 10:30am. 8th in line. front row. long day. didn't go to bed the night before and was too hyped to sleep after the show. i'd been awake for 40hrs. i wasn't gonna queue too early. i was just gonna go down, say hi, see what was occurring and head off for a bit. but i could taste the front row. i couldnt leave.
Time went pretty slowing queuing. watched the endless trams go past. watched the crew unload the lorry. read my magazine. sat on the pavement on top of my PJ's shorts. good times lol.
we were doing ok until about 6pm when it started absolutely pissing it down. the water was coming in through my umbrella! thankfully they let us in 1/2hr early.

incredible gig. absolutely mind blowing.

he's added bonus track right behind u and a U2 cover to the setlist. i knew there was a song missed and i couldnt think what. welcome to fabulous las vegas. so hope i can see that one live. he soundchecked for ages and we could kinda hear it and that was one he did souncheck.....ooh and he smiled at me singing hard enough :) happy fangirl.

the venue was fine with videos and pics as long as flash was off. got some good stuff :)


setlist:
1. on the floor
2. Magdalena
3. bette Davis
4. jilted lovers
5. something I said
6. only the young
7. right behind you :)
8. wywy
9. hard enough
10. losing touch
11. swallow it
12. playing with fire
----encore-----
13. if god will send his angels (U2 cover)
14. crossfire

its wonderful to see Brandon so at ease and happy on stage.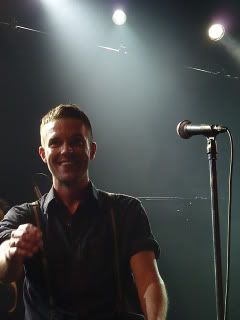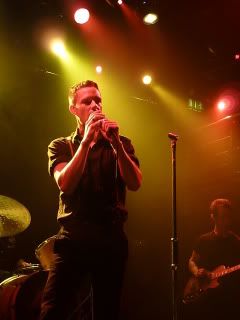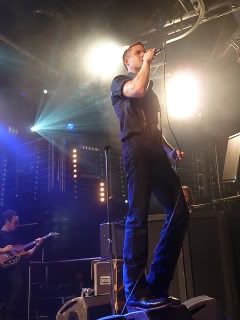 only the young had some crazy dancing hahaha!
losing touch was so good: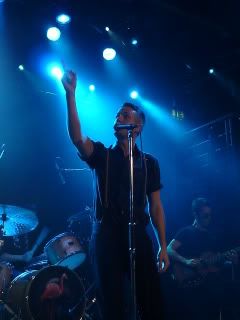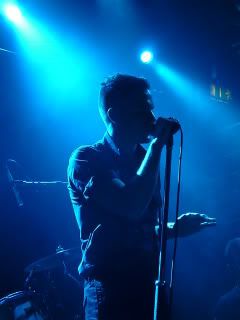 is it too early for a cover?
NOOOOOOOO.
jilted lovers definitely went down best! The video for jilted lovers and broken hearts is a bit shakey as the floor was litterally bouncing, and brandon decided to run around and i had to run the camera after him hehe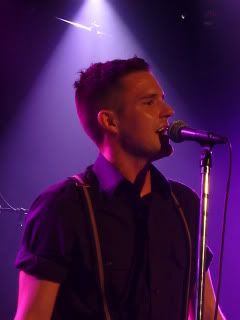 right behind you is one of my favourite songs if the record so i was so excited i got to see it and so pleased i recorded it

he said on every album there has been something controversial and swallow it was it this time.
if god will send his angels was incredibly emotional.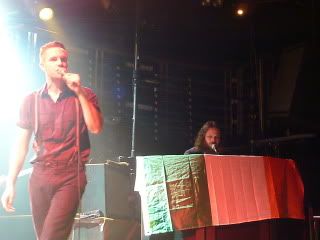 he said he loved redoing killers songs and said he felt like he has found the heart of the when you were young now.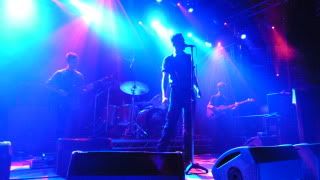 you know i was speechless after the gig. all i could keep saying was that it was so much better than i thought it would be. and i thought it would be amazing :).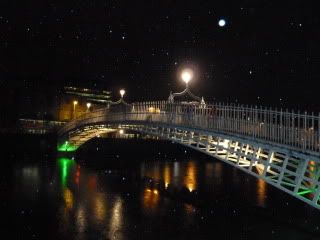 i just missed Brandon! he literally had just got in van when I found the stage door! it was raining and im glad a few local fans got the chance to say hi. i bought a poster incase he could sign it, then realised i had to carry it around all day in the rain and it survived until i got off the airport bus in dublin and i bent it in half. grr.
i'm so proud brandon is doing it on his own, one day we will all look back, when the killers next record is out, and flamingo will just be a memory, but i love it so much. i love brandon live on his own so much.
Total nightmare when i landed back in nottingham! plane was late getting to Dublin so they threw us on filthy plane from Malaga! we were still almost 1/2hr late and then had to wait for bus transfer to terminal! now I've missed my bus home so got to wait another 1/2hr!
was totally worth it. I would do it again in a heartbeat :)
now bring on manchester, birmingham and LONDON!!
so want to hear him singing the clock was ticking.