Glasgow Review – 'This Happiness, This Bliss'.
Hilary, Kelly and I arrived at Manchester Piccadilly and after a hunt for a bacon butty went for our train. There was a freaky moment when we got on the train and checked our train tickets and Kelly and I had seats beside each other despite booking our tickets separately. We arrived in Glasgow after having a good old natter on the train about anything and everything and the show last night. The train didn't seem that long, although I remember getting to Carlisle and thinking, please be there SOON. I was getting bored by then. We got to Glasgow, took in a few nice steep hills (ugh!), checked into the Travelodge, bombed the hotel room and left to head to the queue.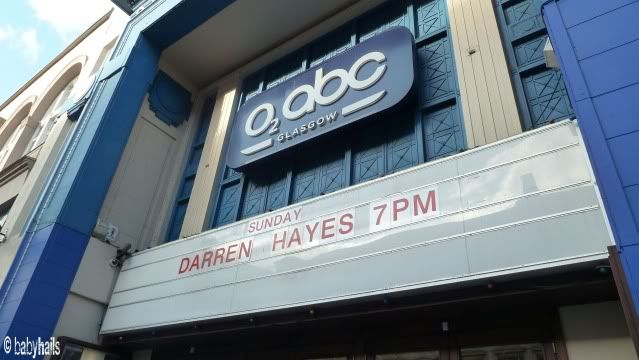 It was cold in Glasgow but it was a nice sunny day. There was a Yates down the road to nip to the loo, there was a fish and chip shop across the road for dinner and there was a great security guy on the door called Davey. He was brilliant and such a laugh. Perfect queuing conditions. Although I was tired and not really feeling that queue for a bit. We had bin liners and magazines to sit on but half an hour after I stood up I still couldn't feel my backside!. We saw Tracey Turner come and go from the venue, she said hi and remarked we had a good spot; she so knows our faces by now LOL. Thank you Holly for pointing out that beautiful rainbow, there seemed some sort of significance to that. We got out our gig tickets and checked the numbers, Kelly and mine were booked together, but Hilary the number after ours. Another freaky moment.
After a battered sausage and chip, some more laughs with Davey, and Becky checking us in for early entry, we got let in. Hilary and Kelly were ahead of me, I wont name names but one stacked it at the top of the stairs and the other at the barrier ;) Tracey was on the stage sorting out placing the set list and had a little giggle with us about it. She was telling us about the set up for NYE and said she was tired. Darren and his team work so so hard, He has a brilliant team around him and Tracey is a diamond.
I paid a little more attention to the pre-show music:
Kate bush – running up the hill
Manic street preachers – just the end of love
Soon the sound of Rihanna was familiar and we knew it wouldn't be long before Gabe Dixon's set.
Gabe's set list:
1. Losing you
2. Even the rain
3. Release me
4. Running on fumes
5. I can see you shine
6. My favourite.
Someone cheered when he mentioned Alison Krauss sung on Even the rain with him.
The crowd wasn't as into running on fumes tonight, they didn't sing as loud.
I became OBSESSED with I can see you shine (co written with James walsh from starsailor).
The story for my favourite was a lot more articulate and funny. Gabe told a story about how his wife had come up to him in the kitchen one day and said 'hey so how come you've never written a song about me', and I said 'a lot of my songs have you in them, you inspire them' and she said 'yeah but you've never written a song about me' and I realised she was right, I had written songs about other girls before (the audience cheered, heckled, giggled. It was funny) and I started about the task of writing a song for her. We were getting married and I was gonna sing it as she walked down the aisle and everyone was gonna cry and it was gonna be this beautiful moment and sadly it didn't happen as it kept coming out cheesy, but when I realised I couldn't encapsulate how I felt about her in a song, I wrote this song'.
Pre-show Music:
Mol caprice – To The Lighthouse (the second last one before D).
The show started earlier tonight for Sunday curfew so thankfully there wasn't as much waiting. It was great to get to chat to Holly for a bit :). The song before the show started, shave came on stage and we knew it was time for Darren. We still haven't worked out what song it was.
Set List:
1. Taken By The Sea
2. Talk Talk Talk
3. To The Moon and Back.
4. Don't Give Up
5. Insatiable
6. Bloodstained Heart
7. The Animal Song
8. Break Me Shake Me
9. Black Out The Sun
10. Stupid Mistake
11. Popular
12. Hot Tub Blues
13. I Don't Know You Anymore
14. Affirmation
------Encore ------
15. Crush / Spin
16. Truly Madly Deeply
17. Siren's Call
1. Taken by the sea
I love the way Darren holds his arm out across the stage. As if presenting himself and the song to the audience. I loved the little lyric change "I am an island, and you are MY ocean" *pointing at audience*
2. talk talk talk
The audience goes mad for this song. Great fun. Gets everybody clapping along and willing to dance.
3. to the moon and back
Crowd pleaser. So much fun.
Chat.
'Whose idea was it tour the week I have an album coming out *pauses* that would be mine'.*laughs* Someone shouted something and Darren said 'I don't know what your saying but I like the accent'
4. Don't give up
Great anthem. I always thought that. I can't wait until we have the album, know the words and make it an anthem on the next tour.
5. insatiable
Another flawless performance of insatiable. There was a bitter sweet moment Daren was singing the word insatiable and looked down at me for a second.
6. Bloodstained heart
You could feel the intensity in the room. Then there was a moment when Darren caught my eye 'even when you fall apart….' My first thought was 'he gets me'. I got a bit emotional. At the very end of the song, the 'oh oh oh ooooh, oh oh oh oh' bit, Darren held his arm out and invited the audience to sing along. We sang so so loud. At the end Darren walked away to beside the drum kit, picked up his bright blue towel and held it to his face, his back to the audience. I knew he was crying. What I wasn't prepared for was Darren to walk so bravely back to the microphone, and wipe away very real tears from his face and declare 'I can't believe you made me cry (Darren wiped away more tears with his hand) They're happy tears though'. I was close to tears too. It was a magical moment.
7. The animal song
'You won't be able to clap along'. Yep Darren you were right, far too fast. He gave up and just sang. HeHe. He sang the line 'I want to run through the jungle' and caught my eye. I remember thinking, that is my lyric.
8. Break me shake me
The MJ spin, the shoulder popping, and a tiny bit of the moonwalk. LOVED IT. Darren was playing up to Steve's guitar. At the end of the song he said: "I don't know if I've ever told you this, that song was about someone who fucked me over".
9. Black out the sun
Always a crowd pleaser. It excites me the new songs are crowd pleasers already. It always makes Darren smile. I adore the line 'I don't wanna be lonely' – Darren always points back at himself. Awww.
Chat
"Life is full of choices. In a split second a choice you make can change your life forever. Do you choose the red pill or the blue pill, left or right, up or down. This is stupid mistake".
10. Stupid mistake
Darren pulled the bandage off his wrist and wrapped it around his neck, as if almost strangling himself. I love the silhouette bit. The make up seemed much less rushed tonight and there was time for the red lips and a quick show off of the stick and tail coat behind the silhouette.
11. popular
Complete with neon blue glasses and stick. I still LOVE this dance routine, it's sexy, cheeky and funny. I still laugh when Darren puts that stick between his legs. It's the face he pulls. A cheeky face of fake shock. So funny.
12. hot tub blues
Hilarious. Darren plays the drunk so well. The way his sits on the chair and his legs fall all over the place and he hits his knee and puts his knees back together again. Very clever. I still love that who? Me? Face when he gets asked for ID. And I adore the drunken choir conducting to Rob's voice. I loved the bit when Darren stands up and leans on the chair and it slides around the stage and then scolds it with his finger for moving. It's pretty indescribable; there is something heartbreaking in that the drunken character played is probably taken from what Darren's seen.
13. I don't know you anymore
Darren wiped the make up from his face and seemed to be struggling a bit to get the red off. There was a little patch of white on his cheek beside the head mic, he almost noticed then didn't. I wasn't the only one who noticed that LOL.
So much emotion in this song again tonight. The whole place was silent.
"I don't recognise this FACE"
"I keep running from the PAST".
AWWWWW. I love this song anyway, but especially tonight.
14. Affirmation
Affirmation makes me so so happy. This was the moment I realised that. I wont ever forget Holly and me really dancing, going for it. It was so much fun.
"I believe MY family are worth more than money or gold".
"I believe that married bliss (negates the need to be undressed)" Darren said: 'I don't believe this anymore!'
"I believe the struggle for financial freedom is unfair. I believe the only ones to disagree are millionaires" *Darren winked at the audience*
"I believe you can't control or choose (your sexuality)" Darren said 'DURR' LOL.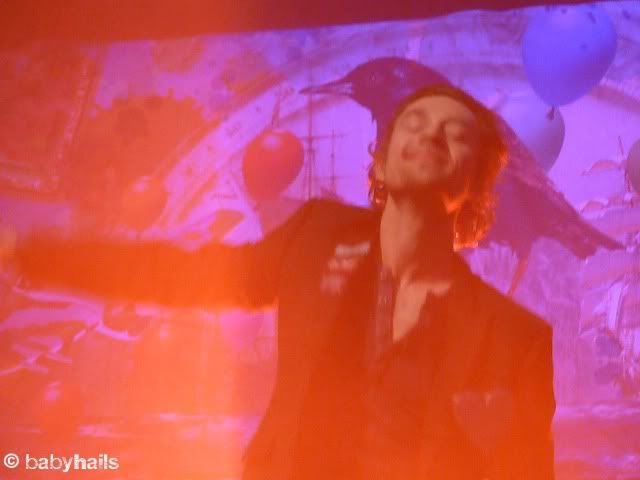 ------ Encore ------
15. Crush / spin
Two words: Keytar Hero. I love Shave on this mash up. It's still exciting hearing crush live.
16. Truly madly deeply
"It's not my song anymore, it belongs to you, do you want me to sing it? I still remember my hair do, it wasn't bad actually…."
"And when the stars are shining brightly in the GLASGOW sky"
"I want to bathe with you in the sea" – Darren done these little actions, scrubbing his chest then moving his hand mimicking the waves. Too funny. We were bored on the train home the next day so we finished off the rest of the chorus' actions. I laughed until I cried.
chat
"let's hear it for my band, Pete on drums, the lovely Alice on vocals, Steve on guitar, Owen on bass, and Justin Shave on keys. Why does Justin get his full name?... Thank you for coming out, you look fucking beautiful by the way".
17. Siren's call
If there was one moment to sum up the entire show, it was the look of being blessed, proud, lucky, happy, on Darren's face when singing this song. His arms wrapped around himself. It's how I feel too. I hear its call.
After the show.
I grabbed some merch and we headed back to the hotel. I got out my travel diary and frantically scribbled and scribbled. I walked away from that show wanting to be a sponge so I could soak it all up. More of it was sticking with me tonight. Liverpool last night was a bit of a sensory overload. There was one conclusion I did make tonight: Darren has bundles of confidence and attitude. This is what makes this tour so much fun. Darren owned that stage, he was absolutely on fire. Amazing amazing gig. Slightly shorter set but so much fun. So many laughs. So much love for tonight.