EQ Live in London with Simon Curtis, Andrea Lewis & Ro Danishei - 14 May 2011.

It was early March 2011 when a dear friend of mine told me about this amazing guy who was doing this show in London. She told me I had to come because he was amazing. She told me go and download his album called 8 bit heart and listen to a song called Diablo. I was SOLD.
'You're the devil
You're a filthy piece of trash
Gotta brush you off my shoulder
Gonna let you kiss my ass'
There were a few things that endeared me immediately to Simon. He had this incredible voice. And sometimes somewhat angry lyrics. I loved it. And he had this way of taking inspiration from other artists and making the song his own:
'Here's the thing, yeah we started out friends
But this is not a Kelly Clarkson song and not how it ends'
I bought a ticket to the show immediately. I was sold. This guy was amazing. And the best thing is, he has this fierce attitude and immense belief in himself, a true indie artist. I was so excited when I found out there was to be a meet and greet, the first thing I did was book the day off work.
The next thing was when the first sampler for his new album 'RA' was posted. There was this song called 'don't dance' and I was obsessed with its few seconds. Again that inspiration from others all mashed up. And I fell in love with the other samples too 'pit of vipers', 'enemy' and 'laser guns up'. The lyrics. The hooks. SOLD.
Then came the 'RA' minimix. We don't know what the songs are called but I LOVE it.
Then just a few days ago came the first single 'superhero'. I FREAKIN' love it. Go listen to it, and then tell me why I said he has this fierce attitude and belief. He truly is an inspiration.
Fast forward to yesterday.
I found myself stood in front of Simon at the meet and greet. Nervous and shy I didn't really know what to say. I let others go first then I produced a present I had brought Simon from my bag. A few months ago I collected a set of robots from a website called sleepy robot. When I looked over at my shelf last week, I thought: THAT one IS simon. So I gave it to him. He loved it. So graceful and thankful and just adorable.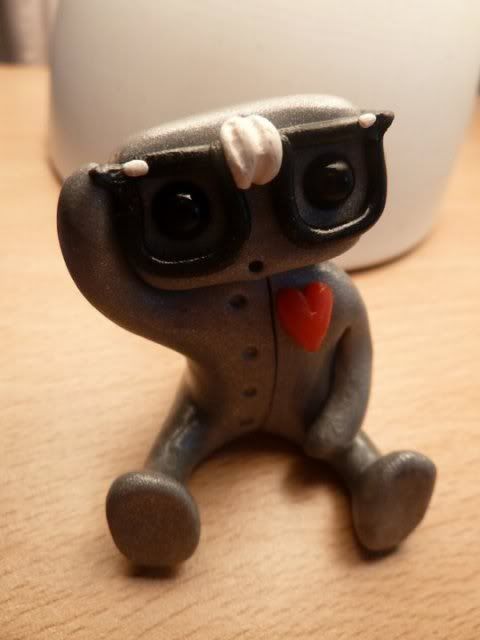 He is absolutely lovely and TOTALLY grateful for the opportunity to be in London. Andrea lewis and Ro Danishei were also uber lovely and adorable. All three posed for pics and signed autographs. One fan had brought cupcakes with him as a present. I laughed as simon shouted to Andrea and Ro "guys we've been gifted food". Like I said, ADORABLE.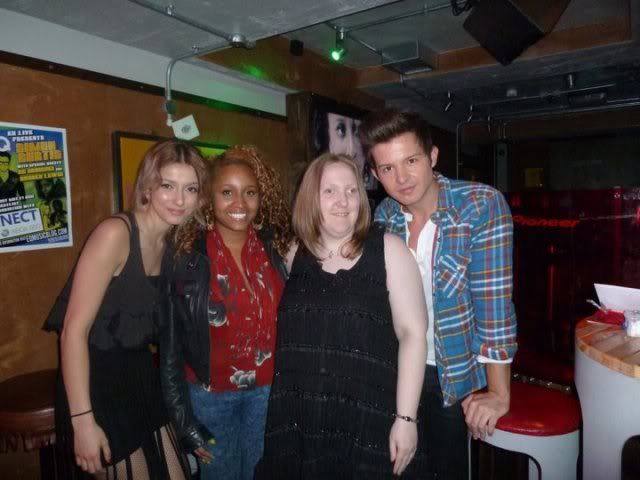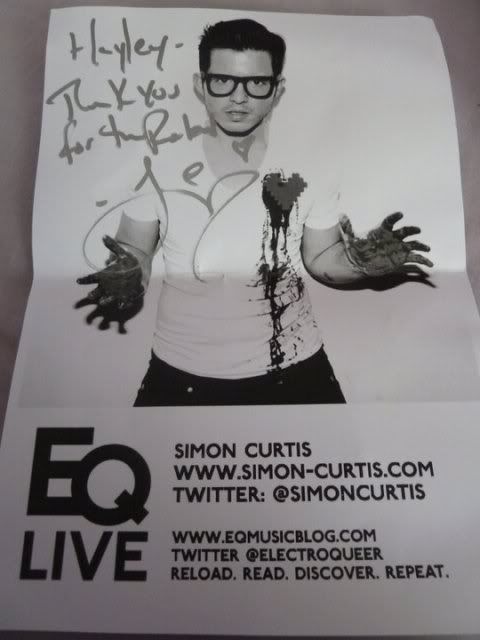 We headed off for a few drinks and then came back for the show. The venue was gorgeous and intimate and had a great atmosphere.
Ro Danishei done a great set I fell in love with her songs.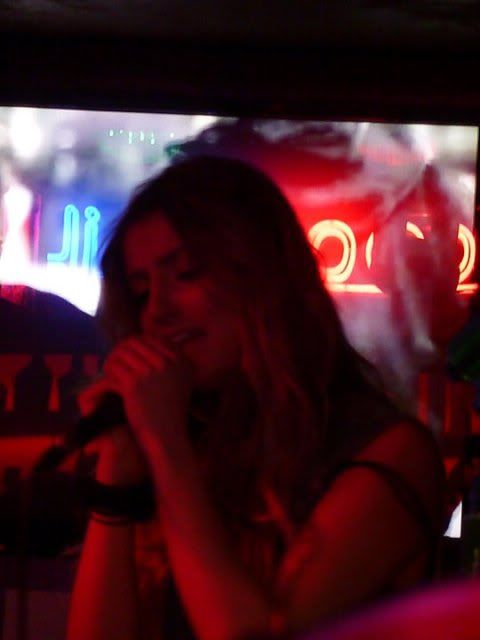 Andrea lewis also done a great set. Her family were there giving it large and it was lovely to see. The girl has attitude. I love her. And I love her songwriting's honesty.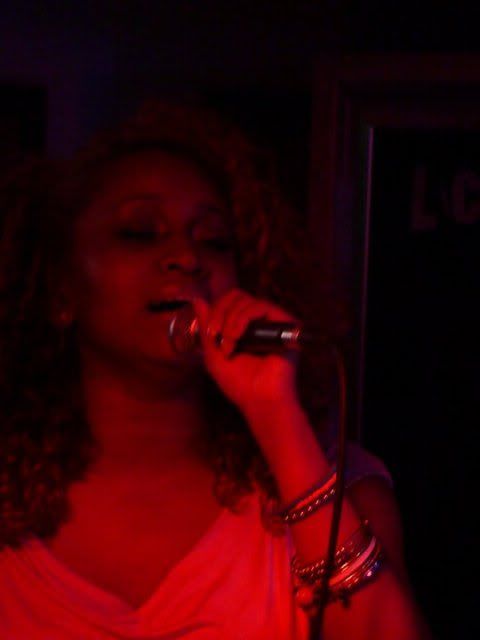 I haven't got their albums yet but will be downloading them.
Then out came Simon. Looking uber HOT and sounding AMAZING.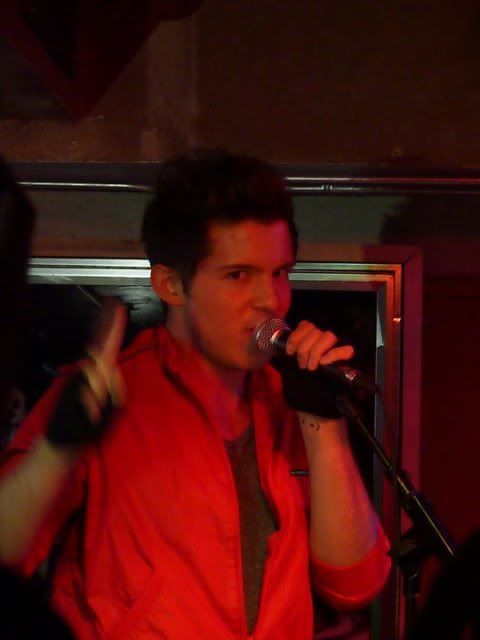 (set list courtesy of: http://www.simon-curtis.co.uk/ with some help from twitter)
1. 8 bit heart (acapella)
2. Flesh
3. DTM (dead to me)
4. Pit of vipers
5. Chip in your head
6. Beat drop
7. Diablo
8. Enemy
9. Put your laser guns up
10. Michelle (duet with Ro Danishei)
11. Talk to me (duet with Andrea Lewis)
1. 8 bit heart (acapella)
I was stunned when Simon appeared and just started singing. Acapella. I was amazed. Not only could this guy sing, he could REALLY sing.
'Is it so, so wrong to love?
Baby is it so, so wrong to love?
Is it so, so wrong to love,
and to be loved in return?'
2. Flesh
I TOTALLY fell for his song. I love it. Cheeky. Sexy. Just HOT.
3. DTM (dead to me)
I'm obsessed with its beat. Just loved it.
4. Pit of vipers
'I'm falling deep into a pit of viiiiipers'. A fave of mine. So great to hear it.
5. Chip in your head
'half a million downloads no I don't fake. The labels still avoid me, what a big mistake'
So that is where that lyric comes from ;).
I love it. I love Simon's balls. He brings it to the table. He needs to get signed. It's criminal.
Simon spoke briefly about 8 bit heart. He explained it gave it away for free to build a fan base and was "on a quest to share the music inside my head and my heart". Deep words that definitely provoked thought.
6. Beat drop

'seven kinds of naughty when you let the beat drop'. LOVE.
7. Diablo
TUNE!!!! I went mental. One thing I noticed was I'm normally so conscious of dancing when I'm not absolutely hammered. I can't dance. But Simon's got this groove that makes me move. You can't fight it. Or stop it.
'Oh wait, this song isn't mine' <3.
8. Enemy
'Don't let me be your enemy'.
Definitely my favourite song of the night. It just sounds so damn good. I love its aggression and its passion and longing.
'Please hold me like you did before, we don't know what we're fighting for'. RELATE.
9. Put your laser guns up
Tune!
'The name is S-I-M-O-N and the game is P-O-P'.
Love it. The place went mental putting their laser guns up. I just loved watching that reaction.
10. Michelle (duet with Ro Danishei)
Just gorgeous.
11. Talk to me (duet with Andrea Lewis)
An emotional song. I loved it. Definitely a fine moment for both Andrea and Simon.
Thank you Simon, Andrea, Ro and Raj for an amazing night.
Raj (electroqueer) has come so far since a few years ago. He's flown really talented artists to the UK for their debut UK show. I'm so proud of what you've achieved Raj, thank you so much for organising it all and the opportunity to be there. Glad I got to say thanks in person.
There was this moment when I was listening to Simon sing and I just thought, Raj has really found three really talented artists that really CAN sing. So refreshing.
It was great to see Simon after the show to tell him he did good. To tell him it was amazing.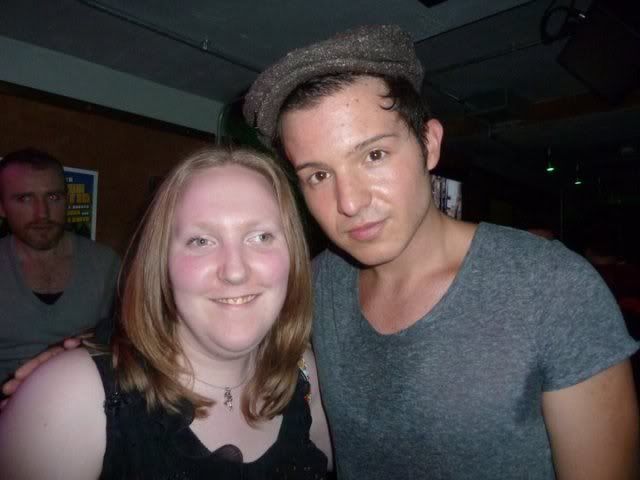 Simon, you already are a superhero. I can't wait for the album to drop.
'I hate to say it, but I would rather fuck a robot'.