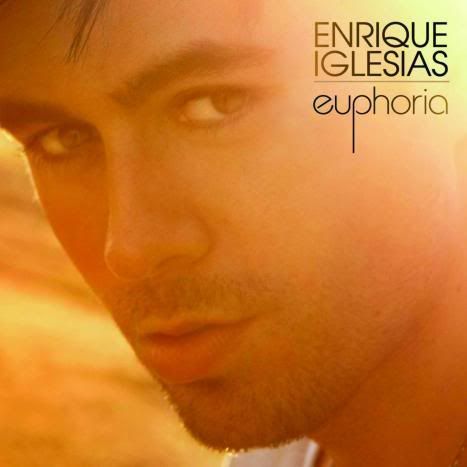 I've been an Enrique fan since hero in 2002. I've played escape to death and I loved quizas, the Spanish language album that was the follow up. Enrique kinda lost me with 7, I didn't really understand where that album was going.
It wasn't until insomniac was released that I found my passion for his music again. Insomniac is an INCREDIBLE album I loved dearly. So when I heard euphoria was hip-hop, dance infused, and had all these artists I didn't like working on it, I was sceptical to say the least.
I've followed the US downloads from itunes, we had 4 before the album.
1. Cuando me enamoro. I didn't take to at first but I like it now. It's got the most sweet lyrics when translated.
2. I like it. I erm… didn't like it. At all. But the chorus got under my skin.
3. heartbeat. with pussy cat doll Nicole. And I LOVE IT. Its probably one of the best tracks Enrique has ever recorded. Simple melody, simply lyrics, but my god it's a dance track. I love it so much.
4. no me digas que no. erm no! I don't like it all.
So that's about 25% of the singles in the US I loved before release. But I took that chance of buying it and finding gold. And gold I tell you, is what it is.
A lot of this album is either dance inspired or about heartbreak. And it works so well.
UK STANDARD VERSION:
1. I LIKE IT FEATURING PITBULL
the first single, you've probably heard it on the radio while doing the cleaning or seen the video on a music channel as you where flicking the channels.
I don't like pitbull and I don't think it suits the song, have said that, I still find myself singing pitbull's words as well as enrique's. I do think it's a great club track that would have been better without pitbull. (see track 11)
2. ONE DAY AT A TIME FEATURING AKON
I've hated akon since he had that silly chipmunk first single. But this song works. It's a tender song about letting go. And I adore it. enrique duet with akon? it shouldnt work. but kinda does.
3. HEARTBEAT FEATURING NICOLE SCHERZINGER
I love love love this song. It's the best dance track ever, and my official sound of the summer. I've played it SOOO many times. This song, unlike the songs with usher and akon was meant to be a duet and Nicole rocks it.
4. WHY NOT ME
Heartbreaking song I adore so much. I hope you don't mind me quoting lyrics.
"i know i will never free my soul. its trapped between true love and being alone"

"u say u love me, but I'm just a friend, my heart is broken, I wanna love you, why oh why baby why not me, we were meant to be"

5. DIRTY DANCER WITH USHER
I love this tune. It's about one of them girls that is pretty and she knows it, and only breaks men's hearts. enrique duet with usher on the other hand. DANCE TRACK.
"she's a dirty dirty dancer, never never lonely, you will never be her only"
6. HEARTBREAKER
A flowing sad song. I love it. It's got this percussive bit on it I love.
7. EVERYTHING'S GONNA BE ALRIGHT
I love this song. It's a pick me up song. And I NEVER thought I would hear Enrique swear but I love it.

"I feel the chaos taking over me. Life is moving at speed the light. At look at u & everything is gonna be alright. Nobody cant f**k with us"
8. COMING HOME
Haven't really played this one much. A piano and vocal song. It's painful. But I love it.
9. CUANDO ME ENAMORO FEATURING JUAN LUIS GUERRA
A Spanish language song and I like it but it's had to grow on me. It has the most wonderful lyrics translated into English:
"If I could get a star from the sky
I would not think twice, because I love you
If the moon be your reward
I swear to do anything to be its owner"
released in the US as a single it has a video:
10. NO ME DIGAS QUE NO FEATURING WISIN AND YANDEL
Classed as almost Latin urban in its sound. I don't like it much. Don't like wisin on yandel on it. It's too typically latin and too urban, in terms of melody and sound. And I hate the huge group of people he's got singing a verse on it.
11. I LIKE IT (without pitbull)
This track, without pitbull, I just ADORE! proper dance track, without that rapper wahoo!
To sum it up I'm obsessed with why not me, one day at a time, dirty dancer, heartbeat & i like it (without pitbull) & US only tracks dile que and ayer. And a reason to buy the cd rather than digitial? Its got the most gorgeous footnote from Enrique on it.
This album is very different from any album Enrique has done before. But it's laced with his brilliant vocals but I do genuinely love it. I can't wait for him to tour it so I can dance my ass off live. I love good dance tracks.
US/LATIN STANDARD VERSION

If you get a chance, I would also recommend getting hold of a copy of the US CD. if you want you could try and pick up a US only special editon CD. Its only sold in US target stores, I bought mine on ebay for about £14.
US only songs:
1. Ayer
Obsessed with this song. A song that wouldn't have sounded out of place on the quizas album. Truly wonderful.
2. dile que
ballad. also obsessed with this song. Again wouldn't have sounded out of place on quizas.
3. tu y yo
another dance track. Spanish language. I LOVE IT.
4. no me digas que no (without wisin and yandel)
This version is better than the version with wisin and yandel but I still don't like it.
So that's about a 1000 words as to why you should just:
BUY IT!!!!