Back at the end of 2009, Darren Hayes tweeted a link to a balcony TV interview with a band I'd never heard of. Curious to see what Darren was so excited about I clicked the link, like many other links he'd recommended. Only this one was different, I was immediately endeared to the band's 'sound'. The was something beautiful about the lead singer's voice and something about the music. The song had this sweet, innocent, and almost ethereal sound, which was ironically called 'stars'.
I followed the guys on twitter (@candlethieves) and in March 2010 they released a song that screamed at me. I went off to iTunes and bought it. It was called 'We're All Gonna Die (Have Fun)'. Without going into the long and boring tale, life wasn't being very kind to me. A lyric grabbed me. 'I know the sun will get through, just gotta let it reach you'. That was a life lesson right there. And it was a real relate moment. I bought the guys album 'sunshine and other misfortunes' when it came out later in 2010 from Hmv online and I gave it a listen. I really liked it.
Time passed and then the band's name re-appeared again in april 2011. They would be supporting Darren Hayes at his NYE show. I was excited to see what the candle thieves could deliver live.
I bought their exclusive Christmas card single and fell so in love with Scott's voice. I went to NYE, and it was a lot of fun. I was rather tipsy but I had a great time. I remember going mental when 'we're all gonna die have fun' was played. 'Bears and sharks' sounded awesome. 'Breathing just for you' was emotional. But I've got to be honest, 'flowers for peggy' didn't quite grab me like other songs did.
When I got back from NYE I pledged to their new album 'Balloons'. One of the pledges was to get a handwritten lyrics sheet. It just had to be 'we're all gonna die have fun' it's where it all began.
I loved all the pledge updates. I fell so in love with a song called Joshua that they had written for a little boy called Joshua. It was just BEAUTIFUL. You can listen to on their facebook page (facebook.com/thecandlethieves)
Fast forward to 5th march 2011: I get an email in my inbox: "The Candle Thieves: Balloons is available for download". Squeeeee. I wasn't prepared for what happened next. Tears. Emotions. I should have been asleep hours ago. 1:30am. Just one more play...
It was such a proud moment. An excellent album by an adorable band. One that their fans had paid to create long before its release. I was so proud of what the power of fans could do. We made this happen.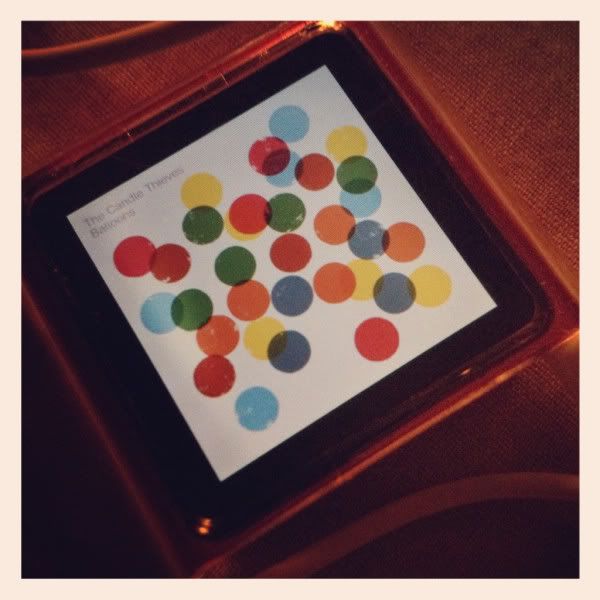 As I played the album for the first time, a few songs leapt out at me:
'Earthquakes'. Years later another relate moment, like that with we're all gonna die have fun.
'the rock and bug' hit me. That song could have been written about me. emotional.
'balloon #3'. Jeez that song, it was then I started to cry. 'Don't let go of your balloon'.
It's a pretty special album.
1. Balloon.
The most amazing piano melody with this big build up, before back to that simple melody. I loved it. It sounds HUGE.
2. flowers for peggy
I fell in love with this song and Peggy.
'Her next door neighbour's always talking about the war, said you should have seen that girl when she was 24, now I know why everyone's bringing flowers for peggy'.
3. we wont ever be rich (but we could be happy)
The title stays it all really. It's just this burst of happiness even though you haven't got much money. It's got a fabulous chorus.
'we wont ever be rich but we could be happy'



4. The weatherman
The start of this song reminds me of Madonna's frozen a little bit. It's gorgeous. Another driving melody. Another song with a wonderful metaphor for deep emotions. Love it.
'I don't mind if you don't mind if blue skies turn to grey... I don't wanna blame the weatherman when it's raining, it's not his fault, it's mine... for a silver lining, you just gotta ignore the lighting'.
5. Earthquakes
This song leapt out at me on first play. A song of honesty. A song of hope. A song for the somewhat disillusioned headspace we sometimes find ourselves in.
'I don't know how you stay cool when it's such a cruel world, and you're such a good girl... And you're such a lost soul... It's such a shit f***ing cruel world'
6. Ten ton digger
I love this song. It isn't a song about a digger. It's a song about true love, and bravery, and it's just a beautiful love song.
'You can take a ride in my ten ton digger, peel off the safety sticker, I know the road looks big, we're just looking for a hole to dig, now I know true love is not a warning trigger'
7. The rock and the bug
This song is easily one of my favourite songs of 2012. it's already my 5th most played song released in 2012 on my iTunes. SOOOOO heartfelt. Heartbreaking. I relate to it so much. If there was one thing I loved about the candle thieves, it was their funny metaphors for very real emotions and raw songs, this is the best example of that. A driving beautiful piano melody and it's got the most amazing strings.
The rock is the person who doesn't think they are good enough. The one that doesn't deserve the bug that can fly away, the bug is a thing of beauty when you are just an ugly rock, but yet you are the one that is the protector, the one that gives the important stuff.
It's an emotion I feel more times than I care to admit, but it breaks my heart that someone else could feel like that. I could quote you 90% of the song.
"I'm hoping that you're happy because I'm not... I'm a just rock and you're a bug, I really wonder what you see in me, when you could fly away happily, for shade, nothing but shade is really all I'm good for, it's a miracle you found me, I appreciate the company, cause I know that you'll move on and I'll stay stuck, for I'm just a rock"

8. The way the world spins
Another thought provoking song. A list of all the things you need love for. And it makes you think how much maybe you hadn't appreciated it or realised it before.
'The way the world spins, I just wanna spin the other way, you need love...'
9. Moths
moths freaks me out. I wasn't sure what to think when I saw there was a song called moths.
'where do they go when the lights go out… where do they go when the sun comes up'
.
Excellent point. Random thoughts LOL.

10. Light and smoke
a beautiful heartfelt song. Its' a very excellent point, all anyone really needs is love, and it really is the only thing worth saving, because without it, nothing else is really important.
'all around me there is light and smoke…we take from homes and package up lives, when we all need to survive, only love, can take the pain further away, love is all we have left to save'
11. balloon #3
This song is just a HUGE masterpiece. The candle thieves excelled themselves. It is just this massive powerful song. I love it so much. It made me cry.
'There were balloons in the sky when his last night arrived... don't let go of your balloon. There were balloons in the sky when he took his own life…there were balloons in the sky on the night she survived… your love is hate but my love stays true'
So there you have it, why balloons struck a chord or three with me.
If you haven't already ordered The Candle Thieves' new album 'balloons' you need to do so, right now.
Is it april yet? Can't wait for the launch party gig!