Betsy Trotwood.
Pledge Music Gig.
Fri 13th April 2012.
Apologies first of all for the scrambled memories. It's been a long time since a band has taken me somewhere else so many times during a gig. It's the sign of a special band. And it also means my head is mush. It's been a long time since I've had gig withdrawals so bad after a show. I could quite happily have lived off the vibe in that room. It was just the most strange, precious, fun thing. These are just my memories of an amazing night. The set list probably isn't complete and almost certainly isn't in the right order.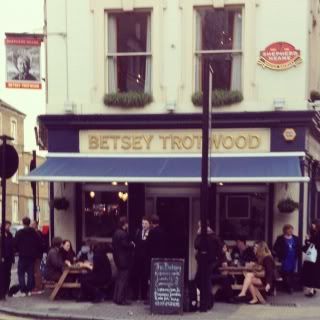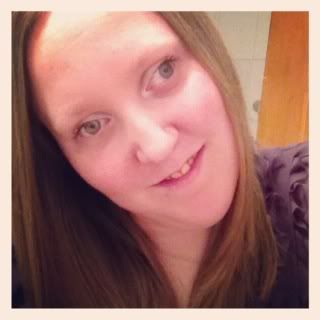 Sharks and bears.
One of my total favourites. Great opening song, so much fun!
'Sometimes I dream of sharks, sometimes I dream of bears'
. :D. I actually had a dream about a shark and a bear in an outdoor enclosure of a zoo once a while ago, … I digress.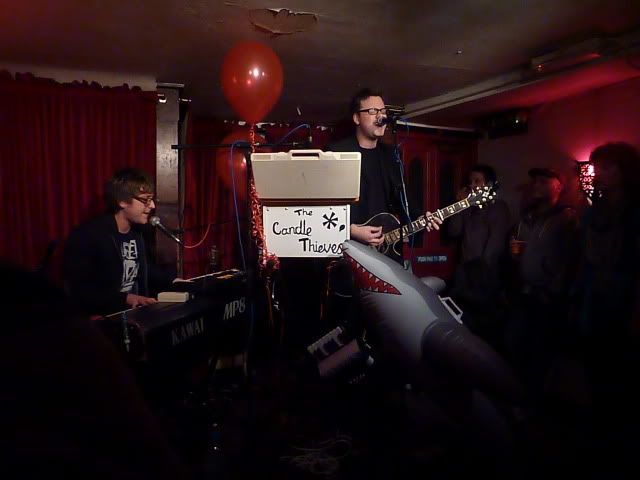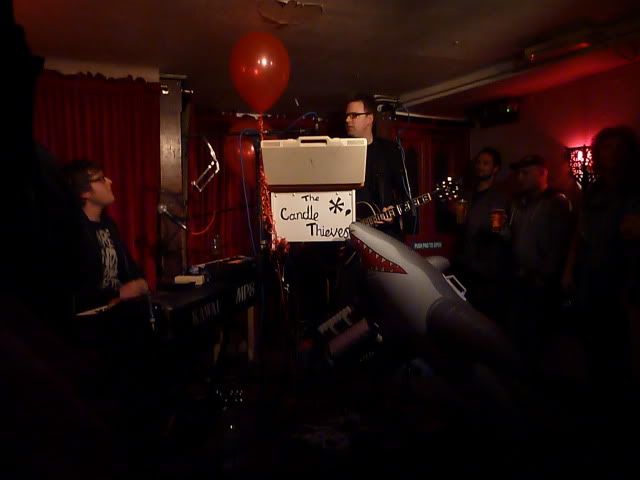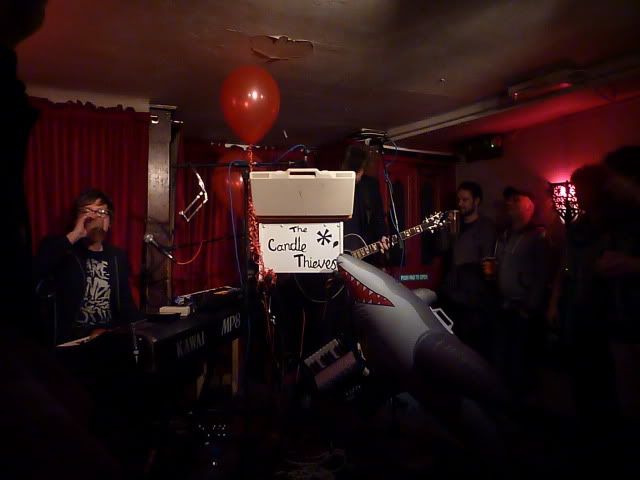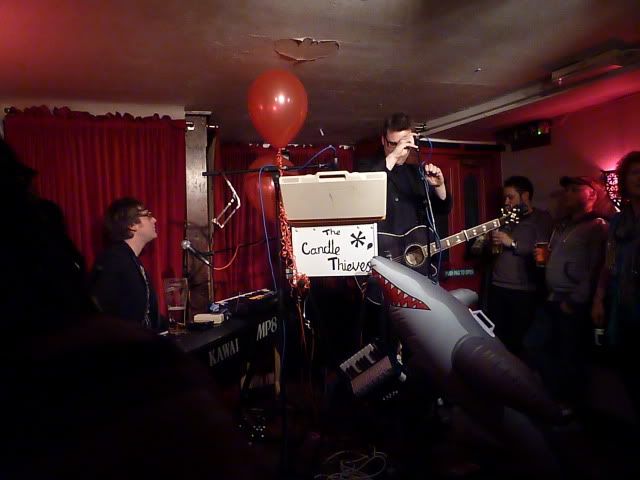 my little room.
I ADORED this version of the song. Played live that driving melody just comes alive and is so much fun. This song is a relate moment.
'I'm not saying that we're all a little empty'
. I wasn't going to say why I relate to it but I think it's important that people understand why this song means a lot to me. I've fought depression for many years, I'm winning that battle these days but this song is a bit of a reminder of the dark. It's also a reminder that I'm so so lucky now.
The weatherman.
One of my favourites off balloons. I just remember singing my little heart out and savouring every single second. I stood there listening to every single word and and I could imagine the thunder clouds wrapping me up, sometimes I forget to ignore the lighting but I definitely left the gig feeling incredibly inspired.
Benitta.
I was a bit surprised this one was on the set. I just love it. It's the guitar, it's beautiful. It's the personal touch,
'my name is Scott and I live in the cold England'
. Afterwards Scott said he wrote it for a woman in Australia who had lost her house in the floods. Glock joked it wasn't like that and she had pledged for it.
Ten Ton Digger.
I love how some songs come alive when you hear them live. This was one of them songs. I've always loved this song.
'hey lonely girl in the window, all I really want is to see you smile'.
We won't ever be rich.
Scott had just started singing and Glock shouted 'it's not about us'. LOL. I adore this song so much. I've never really had much money, and I've really struggled with depression at times, totally unrelated, but I've always had music. This song just connects to my heart. It makes me really happy. It's an anthem. And I was ironically staying in a Travelodge down the road LOL.
Breathing just for you.
I adore this song. One of the songs that first made me fall in love with this band. So so beautiful. It's a favourite of mine live. Love can be so so cruel. I defy anyone not to have a connection to this song.
There was also some great audience participation in one song, a drummer and a keyboard player!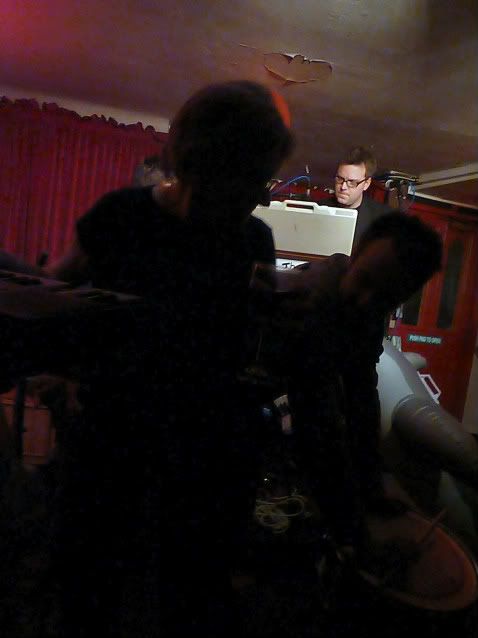 an evening with...
There were so many times Scott was so grateful for the fans that bought balloons and came to the gig. He joked he told us he was grateful 9 times already.
Scott said they had advertised this gig as 'an evening with…' and wanted to do something different that doesn't normally happen. Scott suggested a question and answer session and asked if it would be weird. We said no. Glock said he'd suggested hide and seek.
I kinda froze up. I couldn't think of a single thing to ask them. Idiot.
A lady asked who wrote the line
'you don't need the blessing of a vicar to take a ride in my ten ton digger'.
Scott said Glock wrote it. Scott joked that the lyric was originally 'take a ride ON my ten ton digger' but it sounded like innuendo so they changed it. Someone at the back of the room agreed they thought it was about sex, scott asked Glock, who replied: 'yeah it's about sex' LOL.
Scott asked "Glock have you got any got any stories? You know the ones we talked about in the van on the way here if we got stuck? this was your idea… " Glock replied : "This wasn't my idea, I suggested hide and seek".
Scott continued with another story of his own.
He said they had got a record deal in America, and although they weren't thinking they'd made it, that it was pretty cool. They went to the meeting with all the men in suits, and Glock tipped a carton of popcorn over his head. Scott joked that they weren't entirely sure, but were pretty sure, that's why the label never released their album.
Someone asked what no bright lights was about.
Scott said it was about his dad having a stroke at the dinner table and the ambulance arriving, and how when you are having a tough time already it can be hard to cope with. He said he didn't want to lie to us and wanted to give an honest answer. I'm so proud of Scott, that he didn't worm his way out of it, it must be a difficult a story to tell.
Scott also told us about a gig they had done somewhere and Glock had tunes throat sweets and made a joke before they played a song that you need a good tune and then ate a sweet and no one got it. He said the people afterwards had assured them that the audience were Hungarian and the band were funny and that the audience just didn't understand the joke.
Scott also told a story about when they supported badly drawn boy.
They had a megaphone and during the sunshine song Glock would get the audience clapping and scott would run around the arena with the megaphone. Glock got everyone clapping, scott ran off stage and the megaphone wasn't where he left it. He ended up in badly drawn boy's dressing room, turns out he'd been playing with it, and the audience where still clapping, they had been for about 5 minutes and they didn't know why g they were clappinwhen scott came back. Hehe.
someone asked how the band had met Darren Hayes.
Scott said they had turned up to a video shoot with Richard Cullen and scott said to Glock 'I'm sure that's the guy from savage garden but I'm not sure why he's here' LOL. Scott asked who had seen them support Darren at NYE and I raised my hand. Scott asked if we had seen the keyboard stand collapse on them. I hadn't noticed, I've got to admit I was too busy drunk wahoo-ing to my favourite song (we're all gonna die have fun) to notice. Scott said Darren told them afterwards he was at the side of the stage thinking 'bless 'em', and then he had an issue at the encore with his show and that it was karmic price for before.
Somehow they got talking about balloon #3 and Scott said at the end they start singing the refrain from balloon #2 which was on the Glock's corner ep. Glock said it had cost £2500 to make and only made £500 back as it sold 100 copies. Glock suggested they play balloon #2 but Scott couldn't remember how it went so they done 'cool in the 60s' instead.
cool in the 60s.

I didn't know the song but I fell in love with it. It amused me.
'she was cool in the 60s now everyone thinks she's weird'
. I was so pleased when I bought a copy of Glock's corner after the show, that cd has eluded me before.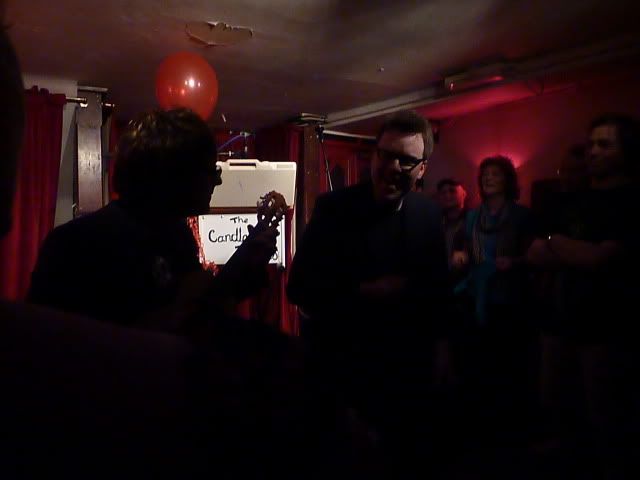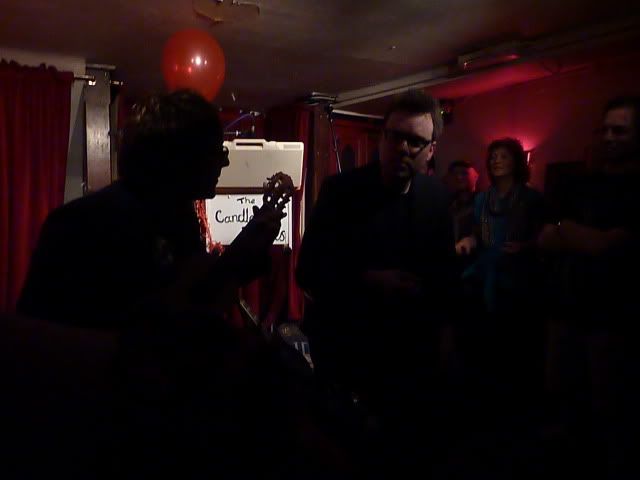 Scott said it was time for more music and they had 5 songs left.
not the only one.
I'm pretty sure this one was in the setlist. It's all a blur but I'm convinced I heard that amazing guitar driven melody.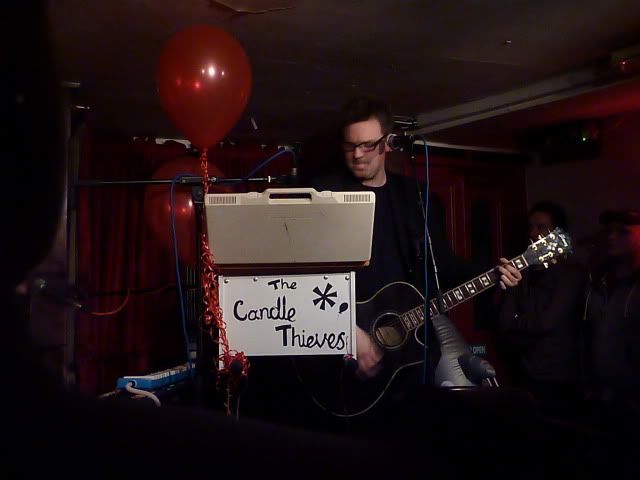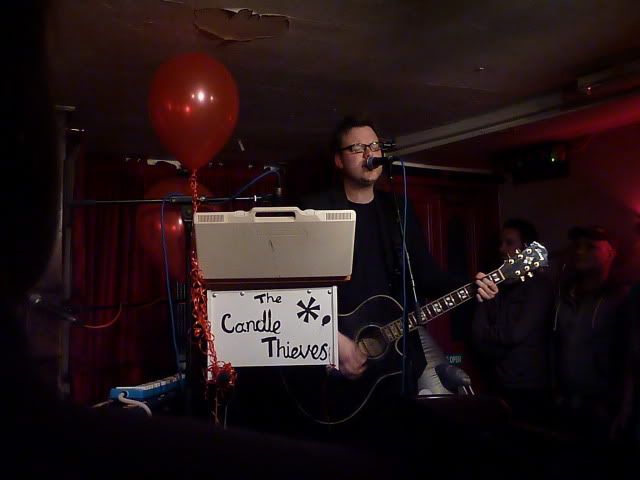 we're all gonna die have fun.
This song will always mean to world to me. It was a song that helped turn my life around. So much fun live. was it this one Glock lit the birthday cake sparkler taped to the keyboard?, not sure, but it was random and fun :).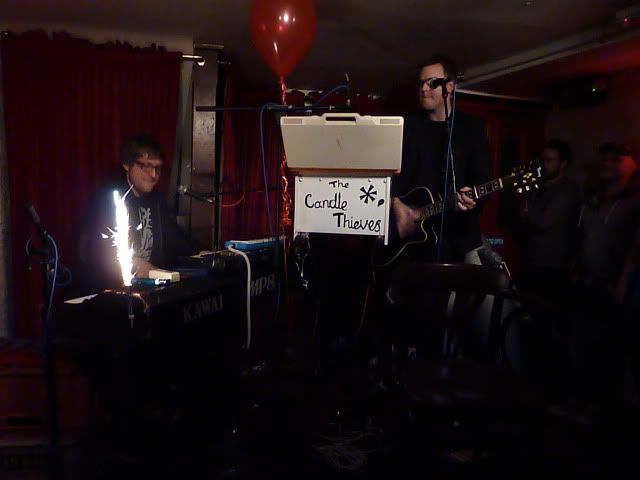 the sunshine song.
Glock was quick to point out the clapping bit that went wrong at badly drawn boy hehe. Was it this song that Glock picked up practically every instrument around him added it on the end and scott said it was important to end a song right LOL.
earthquakes.
Scott said that his mum had told him off for a lyric in the song so he said Glock wrote it, Glock said he'd told his mum scott had wrote it. Glock said his mum was in the audience but scott's wasn't hehe. I just want to know which lyric it is!
encore:

lonely lonely lonely
.
I fell in love with this song. Got to admit I've never really played it much before now.
'Standing in a empty room where to cobwebs don't remember you, let me in and I wont bother you again'
. I drew my own conclusions as to what it means to me, but it was very much a song that was another relate moment. Depression is something I speak openly about and that song to me wasn't so much a literal story but a tale of the battle that is found within a person. Within me.
'I'm lonely lonely lonely in a room full of my friends'.
flowers for Peggy.
This song makes me smile so much.
'she's hold up the traffic on her Sunday morning drive'
. Peggy I can only assume is a total legend.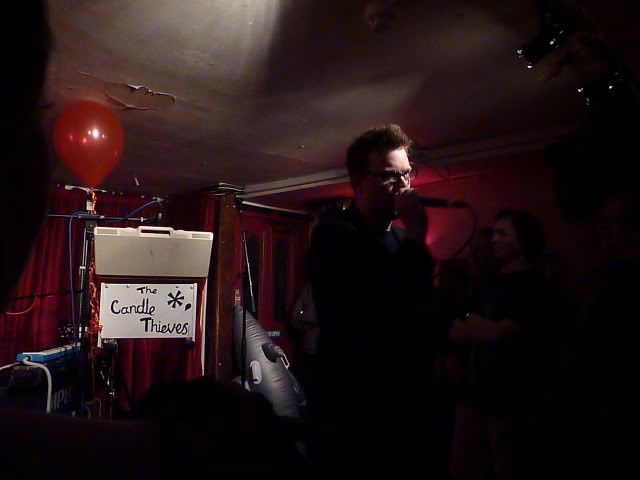 stars.
It was just this beautiful moment coming full circle. This song how I discovered the band and it made me a fan 2 years ago. And there I was, 2 years later, Glock was sat at my feet on the floor with a keyboard that had a lit sparkler taped to it.
'it looks like we made it, it looks like we made it through'
. I really wasn't in a good place when the candle thieves came into my life. But I did indeed make it through. It was an emotional moment.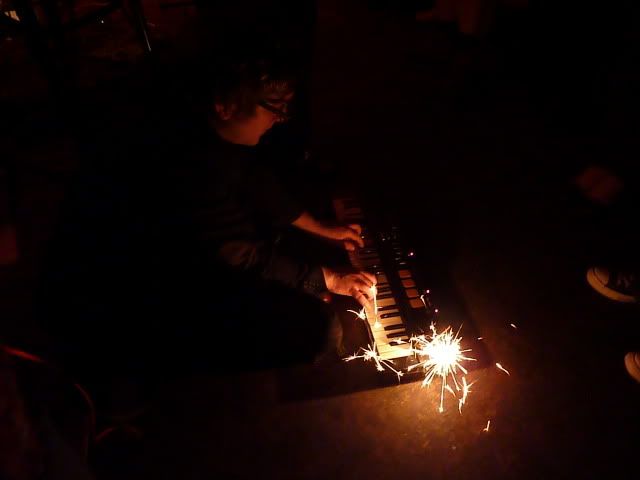 Scott said he hoped to see some of us in September on Darren hayes tour, he said "it will be different from tonight and there will be a full band *pauses* 4 of us". hehe. He also apologised for forgetting to bring the balloons CDs with them for the merch stand LOL.
After the gig I hung around for a few minutes. I wanted to get a Glock's corner CD. What happened next amazed me. Scott came up to me, without me approaching him, put his arms around me, and thanked me for my album review and that it meant a lot. I don't think he understood in that moment how important it was to me. I never expected him to know my face or remember the review. But it was a beautiful touch to end an amazing night. Thank you guys.
I'm in love with this band. An amazingly chilled out gig. Great songs, great chemistry. A band that just connects to my soul. Those boys have so much talent, scott's voice kills me, its just a slice of heaven. And they write lyrics so close to the bone, songs that get down to my very core. I missed my friend Darcy so much during the show, she lives in America & loves the band and she just gets me.
I walked away from the gig, back to the Travelodge, I was so happy. I was reminded that life is short and you have to say yes to as many things as possible. I'm so glad I went.
See you in September boys.
'we can't stay young forever, but we can stay young for the rest of our days'.